The Foodie Lovers' Programme
From £674 per night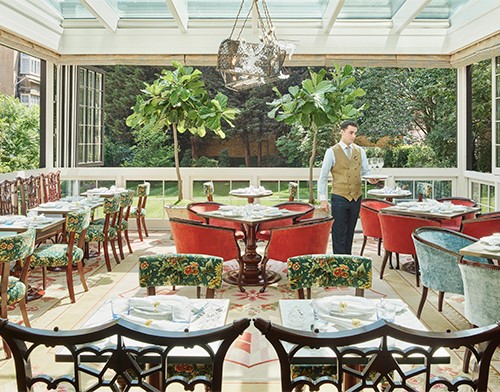 2019 was such a busy year at The Goring as we continue to stay at the forefront of developments in British gastronomy. In June and for the first time in our 110 year history we launched a second restaurant in a newly constructed pavilion overlooking our private garden. Under the direction of Nathan Outlaw, Siren (pictured above), is an exciting new seafood restaurant serving the finest and freshest fish, delivered direct to us each morning, having been caught off the Cornish coast and landed by day boat at 4.00 am.

The restoration, refurbishment and relaunch of The Goring Bar was completed in August with a new and original cocktail list and a proper bar food menu. Then in October we learnt that The Dining Room had retained its much sought-after Michelin star. We believe food cannot be enjoyed without good wines and our sommeliers continue researching and investing in wines from around the world making The Goring cellars second to none.

To acknowledge and mark these many milestones we have curated a wonderful two-night Foodie Lovers' Programme which includes a two-night stay with dinner in Siren on one evening and in The Dining Room the other. Full English breakfast is included each morning. The programme can be further enhanced with wine pairings, our wonderful afternoon tea and lunches too, just speak to our reservations team when making your booking.
To book this offer contact the Reservations team on
+44 (0)20 7396 9000, or email us.
BOOK ONLINE
What's included:
Two nights' accommodation
Three-course dinner for two in Siren
Three-course dinner for two in The Dining Room
Full English or continental breakfast on both mornings
Unlimited WiFi
Complimentary mineral water
A daily newspaper
24 hour access to

The Fitness Room
Terms & Conditions
Rates include VAT, two nights' accommodation (based on two people sharing), three-course dinner in Siren, three-course dinner in The Dining Room and breakfast each morning for two.