History of The Goring
One hotel, One family
Built by Jeremy Goring's great-grandfather Otto in 1910, The Goring has been lovingly run by the Goring family since its inception.
A visionary, Otto Goring saw great promise in a plot of land situated at the Buckingham Palace end of what today is known as Beeston Place. After removing a public house and several cottages, the path was laid clear for the last grand hotel of the Edwardian era – The Goring.
Opened on the 2nd March 1910 this historic hotel was finally complete, along with en suite facilities and central heating in each and every bedroom – widely believed to be a world first.

A number of historic events have taken place at The Goring over the last 110 years. The Commander of the American Expeditionary Forces was based at the hotel during World War I. Winston Churchill held meetings with allied leaders in the Silver Room during World War II, while the Polish army in exile was based upstairs. In between all that, every reigning Monarch and serving Prime Minister has been welcomed into the hotel since 1910. And of course there have been all sorts of other historic events where The Goring has been privileged to assist.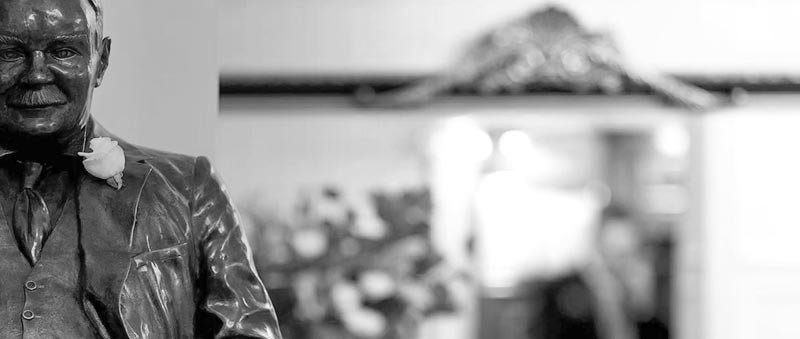 Over a Century of Luxury Service
Today, The Goring remains a favourite address and hidden gem for anyone seeking out that impeccably English luxury hotel in the centre of London.
Through four generations of the Goring family, the hotel has come to deliver some of the finest personal service in the world. This world class service is set against the elegant backdrop of the rest of the hotel. From the Linley designed Dining Room celebrating the very best of British food, to the artistry of the hand-woven Gainsborough Silks which adorn the walls so gracefully, The Goring is a wonder to behold. The inside of the hotel is beautifully enhanced by The Goring Gardens – one of the largest private gardens in the capital. The Gardens provide guests with the perfect setting to enjoy the award-winning afternoon tea and The Goring is proud to be leading the way in restoring this wonderfully English pastime to popularity once again.
With only 69 luxurious suites and rooms, The Goring is affectionately known as a "Baby Grand". It is the finest of traditional hotels in the perfect location, but with the most intimate of atmospheres and personalised attention.
Check our latest offers and book one of our luxury rooms or suites.